UPDATE: For those looking for info about Pleasure Island closing, please read my newer post.
While I was cruising Google Maps (like you do), I was hovering close to the Lake Buena Vista area; translation: Walt Disney World. That made me remember this past Friday when my friends Matt and Katherine and I flexed our annual passes to Pleasure Island, and we were shocked at a striking new development: The huge West End Stage and the smaller Hub Stage (pictured in Yellow) were completely demolished. The West End Stage so much so that it was almost down to the bare "island". Also, the Hub Stage left an ugly ugly scar on the side of the Rock-n-Roll Beach Club that seemed to render the fire escape on the West side of the buidling completely imapssible.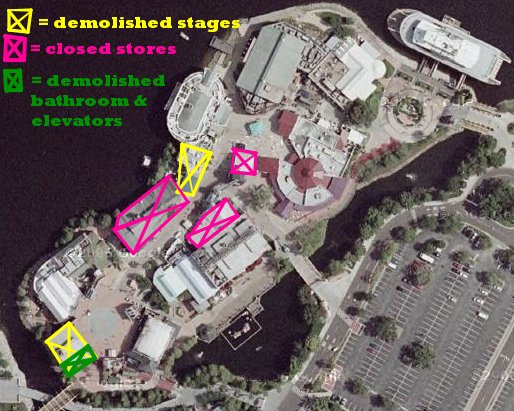 Tearing down the West Stage also means the bathrooms just below the stage (down the stairs) and the elevator no longer exist... This is not very Accessible or convenient for the mobility impaired or people who have to pee (or yammy).
A complete list of what is happening:
Taken from AllEarsNet.com Pleasure Island FAQ:
Beginning in March 2006, Pleasure Island will undergo some big changes. The West End Stage and the Hub Stage at Pleasure Island are under refurbishment, continuing into late 2006.

Other closings at Pleasure Island include:
-- Superstar Studios -- closed March 3.
-- Missing Link Sausage Company -- closed March 19.
-- DTV -- closed March 19.
-- Zen Zone -- closed March 19.
-- Reel Finds -- will close April 1.
-- Changing Attitudes -- will close April 1.
-- Orlando Harley-Davidson -- closed March 19, but will relocate to the former home of Reel Finds and Changing Attitudes.
I only wonder what will replace most of the empty spaces -- more clubs? I have heard rumors that parts of Pleasure Island were closing because they were not "Family Friendly", but now I see that they really mean "not profitable". I guess that is how the Rumor Mill works. Clearly, the big stage only housed live music for 2 days out of the week, and the small stage was reduced to pure video-wall-ness. Maybe these spaces will achieve some useful purpose in the near future.
If anyone has any exciting theories as to what may be replacing the closed and demolished buildings, post them in the comments. Links and pictures are very welcome!
Commenting on this Blog post is closed.