Last week, I started the discussion of programming as a form of creative expression with some of the kids at work, and Kevin pointed us to John Littler's Art and Computer Programming article. That led Eric to post a link to Paul Graham's essay on Hackers and Painters, which I gobbled up and loved.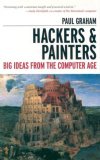 I'm writing this blog post so I can click on my own Amazon link to order this book for myself. If you appreciate the recommendation, you could do the same. Hackers and Painters: Big Ideas from the Computer Age
is a collection of 14 essays by Graham on "the importance of beauty in software design, how to make wealth, heresy and free speech, the programming language renaissance, the open-source movement, digital design, internet startups, and more."
Again, I'll say that I don't like the use of the word renaissance, since the medium itself has hardly affected 5 generations of men and women. This next wave where we move toward semantic web and a mixture of online and offline applications shows lots of promise, but I won't agree that this era can be referred to as a rebirth for many years to come, when I'm old and I've had some time to look at it from a distance.
Just that first essay where Paul talks about getting a day job and hacking at night is certainly how I've always felt about podcasting - I love it, and I'd love to get paid for it, but to do it 40 hours a week would really feel like implementing someone else's plan instead of creating the art myself.
From Paul Graham's original Hacking and Painting essay:
If a hacker were a mere implementor, turning a spec into code, then he could just work his way through it from one end to the other like someone digging a ditch. But if the hacker is a creator, we have to take inspiration into account.
I say this all the time, but one reason why I think so many folks at the Florida Creatives Happy Hour are programmers is because of the nature of the medium. We hack in our spare time, we release the apps quietly, thousands of people anywhere in the world may use and love the results of our labors of love, but we don't get to see them face to face - painters, filmmakers, actors, poets, all have the ability to be present with their audience the first time they experience it. Television and radio are more removed. Web apps further still. We crave that human interaction, and the validation you can only get from your peers and your audience. That's why all the hackers are there.
One of these days I'll get some Processing projects going, and have some literal art created by a hacker to show off. When I get some free time, you'll see. Whenever that happens.
Commenting on this Blog post is closed.