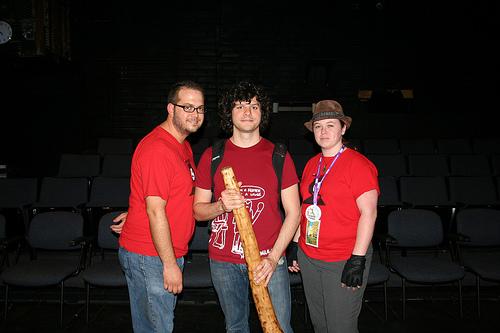 Greg and John, and someone else... maybe the tech?
Two years ago, John Valines and the Rickshaw Boy crew won the Fringe of the Fringe Award - last year they gave it to Blogging Fringe. Radio Rickshaw is a long-running podcast here in Orlando with a small network of shows, and a barbershop quartet.
Also hosting this episode is Greg Barris from the Heart of Darkness Rock and Roll Circus. I actually don't know much about Greg, except he used to live in Orlando, and he was involved with SAK Comedy Lab. His show was part monologue and part stand-up comedy, and it was pretty good.
Sometime during the week, I bumped into John and Greg with the Marantz recorder interviewing folks, and they talked to me a bit. I talk about Twitter, USB Humping Dogs and Fringe Shows, and I might be on mushrooms.
Radio Rickshaw Episode 62: Fringe 2008
Listen to the show.
Commenting on this Blog post is closed.