In less than two weeks, I and a few of my geeky Drupal friends will be jetting up to DC for a massive gathering of Drupallers larger than the world has ever seen.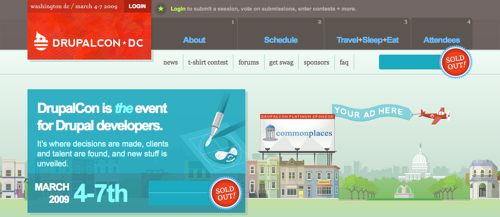 With well over 1,200 tickets sold, this will be almost one-half larger than any previous Drupal convention. I'm hoping to see some folks I met in New Orleans and make some new friends.
Mike, Andrew and I will be there promoting our Drupal Easy Training, one of the ventures of our new project. To date, we have released a bunch of blog posts and one podcast.
The podcast has already been mentioned in a poll about future DrupalCons and on Dries' twitter.
Listen to DrupalEasy 01: "Dries for President":


You can subscribe to it in iTunes (search for DrupalEasy) or you can get the latest episodes from the DrupalEasy website.
Also, if your going to be at DrupalCon DC and you want to be a guest on the podcast please contact Andrew so he can set up a time. I will have the N96, and Mike will have a Flip camera, so we'll probably be doing some conference videos as well.
P.S. I'm still looking for a room in DC - if you know of anything, I'm game!
Commenting on this Blog post is closed.