UPDATE: This training has been rescheduled for October 13-15th.
At the end of this month, I'll be presenting a 3-day long intensive Drupal workshop intended for themers, graphic designers, front-end developers, UX people, or whatever combination of those words you use to describe yourself.
Professional Drupal Theming and Site Building, a DrupalEasy Training Event. Held on Oct 13-15th, 2010 at 701 East Washington Street, Orlando, FL in the Planet Digital building.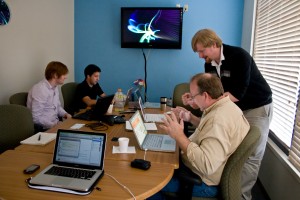 A three-day workshop in Orlando, Florida that teaches industry best-practice Drupal theming and site building. Day 1 covers the fundamental principles of Drupal theming geared toward people who wish to take a static mockup of a site design and turn it into a Drupal theme. Day 2 covers using base themes, grid-based layout and helper modules to streamline and customize your Drupal theme. Finally, Day 3 is an advanced site building workshop, covering some of the most popular and powerful Drupal modules: CCK and Views, and modules for content editing, search engine optimization, user-generated content and editorial workflows.
DrupalEasy is the collective expertise of Ryan Price and Michael Anello, who joined forces to provide training and consulting services worldwide. Some of their past clients include Popular Science, Field and Stream and Outdoor Life magazines. Trainer Ryan Price has built entertainment sites, social networks, eCommerce sites and user-contributed sites with Drupal since 2006, and has over 10 years of experience building sites with PHP and other technologies. You can also catch Ryan, Mike and their co-host Andrew Riley on the DrupalEasy Podcast.
Commenting on this Blog post is closed.